Results: L 0-2 (Current position: 9th as of August 26)
We played our very first TML game last weekend vs SUNS FC. The results ended with a 0-2 loss with very early goals coming from the opponent in the early 15 mins. First half we played a 4-1-4-1 (or 4-5-1) position with one CDM controlling the mid-field. There were some issues there, where it made it harder for our CDM to control the mid-field with just one CDM. But overall, besides the goals that we allowed, our first half wasn't too bad, and it was somewhat expected to see the opponent play well due to their long-term experience they have as a team.
---
Second half was a whole new ball game for us. We switched the formation to 4-4-1-1 (or 4-4-2), giving more reinforcements to our mid-field by adding two more central players in the mid-field. I think we dominated that second half where we kept the possession of the ball, and we were able to connect multiple passes, building up from the DF to FW. I'd say the possession was around 70/30. Second half, we started to understand each other a little more and we were starting to play like a team that played with each other for years. I saw so much potential in us, it got me excited to play, motivated to get ready for our next game in 2 weeks. There is still a lot of things we need to work on, and testing their opponent GK is one of them. It's easy to write than to do but, WE REALLY NEED TO TAKE MORE SHOTS. Simple as that. I know by keeping the possession and controlling the game, we were able to test their field players very well, and the ref even acknowledged the fact that we were contending against the potential winning team of the division. But we cannot say anything because its a long season and we still have 17 more games to play.
We have a great group of talented individuals who can really play this game, making my life so much harder to pick the right "starting line-up" for the team. Each and every one of the players are great and we expect these players to grow even more throughout the season. We all know what we need to work on and we all discussed it with each other on how we wanna play. One big factor that we all share is that WE ALL WANT TO WIN! And because of the results last weekend, I think it gave a great wake-up call to our players.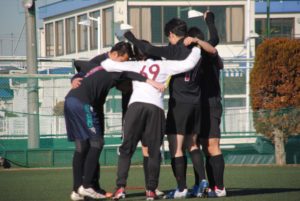 #FAMILY #nosfrena #wechamps
Our next game: September 7th, 2019 (Sat)
VS Real Celts FC @YC&AC – 16:20 kickoff