October 6th 1PM. Shower of rain and cloudy skies loom St Mary's nearly square sized pitch. Slippery field, slippery ball and slippery hands sets the ground for a perfect EPL game under the name of TML match of the day. Playing against league leaders Jetro FC, a win would boost YeBoiz FC's chances of gaining promotion, and potentially contend for the title. With both teams playing for their pride, this game was always going to be a physical one. Even more so for YeBoiz. We were yet to prove ourselves, that "We Champs". That we deserve to be promoted. That we could go beyond everyone's expectations.
Not today…
The day started with the introduction of YeBoiz FC's new kit, hyped by the kit launch video posted the day before. Some players like Aki-Joe were so excited they acted like a child waiting for their cotton candy being summoned. Everyone looked happy to wear their new Adidas kit, until Zumi said,「誰も似合わない」. He's right. No one looked better than our two contracted models Richard and Kevin. But give us time and we'll blend the colors into ourselves. Into "Our colors".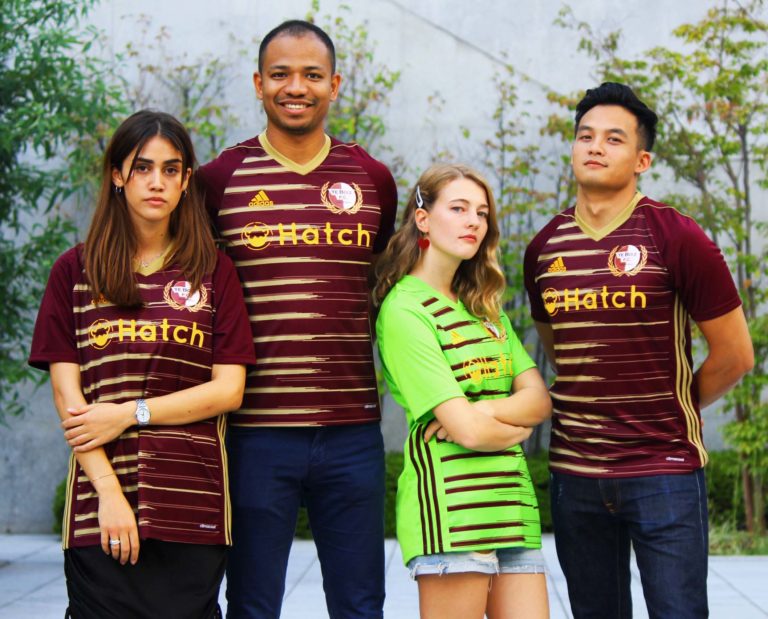 The game kicked off with a bright start. Akito (our Fabinho) played as anchor midfield in a 4-5-1 formation to support Mouri and Zumi. Early stages of the game were sloppy from both sides. The slippery turf made it difficult to control the ball and both teams played a ping-pong of possession. Our horrendous showing of foul throws gave them chances deep in our own half. But as we grew into the game, we knew our plan was working. Akito won every duel in midfield whilst our defensive line up (Sujang, Sauce, Aki-joe, Masato) passed the ball in confidence. Great link-up between our central midfielders, Mouri and Zumi gave way to darting runs from Enokido and Ozeki. A well drilled corner kick opened up Hiroki, who dived* for a free header only to be parried away by a more than decent goalkeeper. Frustrating moments.
*We'll get back to another dive later.
There were moments where Hiroki's run in behind Jetro's defense opened up goal scoring opportunities. But a well disciplined opposition back line catches him offside. Just when our midfielders were in full control, another chance arrives. Zumi receives the ball, turns, and looks up. Hiroki who would've run in behind, this time made sure he wan't offside. A perfectly executed through ball splits the defense wide open. Cometh the hour, cometh Hiroki. YeBoiz's top goalscorer slots the ball beyond the goalkeeper's reach to his left. 1-0. At this point, we knew. We knew we could win this.
As we searched for a second goal, an unexpected injury hits us. Our fittest looking player Ozeki, ruptures his hamstring. He's off. Let's reiterate the importance of leg day at the gym. Get well soon.
On comes our subsitutes, Takahiro, Sho K and a debut for Akira A.K.A "Tuna". The first half soon ends with YeBoiz ahead 1-0. Half time team talk included throw-in lessons and reconfirmation on our corner routine. We were all high in morale. Within 10mins of the second half, disaster strikes. A passing error in defense leads to a bad clearance, giving the opposition a 1 on 1 with our debut goalkeeper Tsukasa, who played superbly up until this moment. Goal, 1-1. Whether it was complacency or a lack of concentration, it was a sloppy goal. Never again.
YeBoiz finally steps up a gear and starts to dominate again. Takahiro passes the ball over the opposition defense. Hiroki hustles with the CB and gets in front of him, only to be tackled blatantly from the back.
The whole team shouts penalty. The referee waves away to every players dismay. Yet referee was adamant… that Hiroki overreacted in the foul. We call it.. a dive.
Moments later, two clear goal opportunities. A great run by Sho K. on the right is spotted and picked. He swings his left foot inside the penalty area. Wide. Another almost identical chance. This time the ball rolls to his preferred right foot. And this time he uses the inside of his feet to punch the ball in the back of the net. It goes high. Frustrations can be seen as he slams the ground.
The final chance to win the game comes on the 78mins. As Zumi receives the ball in the middle, Hiroki and Takahiro sprint towards goal. It's a 2 vs 1 situation. A perfect ball is poorly touched by Takahiro that leads to a hurried shot straight at the goalkeeper. Wasted.
Final whistle blows. 1-1.
What began as a great day, came to an end with utter disappointment. All of us knew, we had disappointed each other. All of us…
But what now? Are we going to blame each other for our mistakes? Are we going to rue our lack of concentration until the next game? No.
The true essence of YeBoiz was built on the foundation of strong relationship, bond and unity of our community. Our team. And when you're part of this team, you stand up for your teammates.You protect them through good and bad, because they'd do the same for you. Each of us know what to improve on. We will support each other and seek to achieve the common goals we desire. This is no ordinary team. This is YeBoiz FC. We will bounce back. Bounce back like champions.
"No matter how bad things go, my heart and my mind will carry my body when my limbs are too weak. Who am I? I am a champion!"
American Football Coach John Flowers